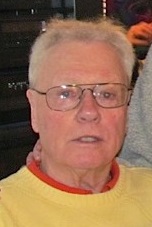 David J. Joyce, 87, a lifelong Nashua resident, passed away at his home, Wednesday morning, May 3, 2017.
    Born in Nashua on January 25, 1930, he was a son of the late Dr. Roland and Mary (Curtin) Joyce. His early education was in the Nashua Public School System; and attended The Tilton School, Proctor Academy and was a graduate of Keith Academy in Lowell, MA. After graduating from Saint Anselm's College in Manchester, Mr. Joyce served two years in the US Army, stationed in Bordeaux, France, as a member of the Special Police Force.
    Returning from France, he launched his career in sales, originally with Whitman Publishing Company and later with Saalfield Publishing Company. Changing industries after many years, Mr. Joyce became a salesman for Carolina Motor Freight Company, Watkins Freight Company and retired from Nashua Motor Express.
    An original member of Hampshire Hills in Milford, NH, David took great pleasure in playing tennis, the Detroit Tigers baseball team, win or lose; a very dry Beefeater Martini; summer vacations in Boothbay Harbor, Maine and winter months on Marco Island, Florida. Memories of summers at Rye Beach, NH and the Lake at Camp Kabeyun, Alton, NH, remained with him throughout his life.
   David was predeceased by his wife, Mary E. (Herlihy) Joyce, who passed away on May 2nd of this year. They were married on November 27, 1968 and shared the past 48 years together.
    Members of his family include his brother, Roland Joyce of Falmouth, MA four brothers-in-law, William Wiese of Burlington, VT, Lt. Col. Horace Herlihy USMC and his wife Karen of Guam, Gerald Herlihy and his wife Betty of Old Town, ME, and Thomas Herlihy and his wife Thomae of Nashua; also many nieces, nephews, grandnieces, grandnephews and cousins. In addition to his wife and parents, David was also predeceased by two sisters, Patricia Wiese and Helen Murray; and a sister-in-law, Catherine Joyce.
     Per David's wishes, there will be no calling hours. In lieu of flowers, donations may be made in his memory to the American Cancer Society, 360 Route 101, Bedford, NH 03101. Arrangements are in the care of the FARWELL FUNERAL SERVICE, 18 Lock Street, Nashua. (603) 882-0591. www.farwellfuneralservice.com