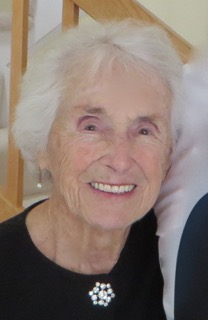 Ethel M. (Hubert) Bagshaw, 97, a longtime Nashua resident, widow of Joseph J. Bagshaw, passed away peacefully early Saturday morning, December 16, 2017 at home, after a brief illness.
Mrs. Bagshaw was born in Moosejaw, Saskatchewan, Canada on November 27, 1920 a daughter of the late Andre and Alma (Lemiere) Hubert. She later made her home in Quebec, Canada and Lowell, Massachusetts before moving to Nashua in 1950.
Ethel was a Past President of the Women's Auxiliary of St. Joseph Hospital as well as being active in many other charities in the Nashua community. She was a professional homemaker, creating a welcome and warm environment for all. Above all, there was not one day that her strength and support for her family ever waivered.
An active sportswoman, she enjoyed tennis, golf, and curling and was a lifetime member of the Nashua Country Club. Ethel was a consummate cook and hostess, whose dinners were memorable and never less than exceptional! She was elegantly fashionable, chic, classy and stylish. As an avid reader, she was also great at sharing her books with others!
Ethel and Joseph enjoyed adventures with their many wonderful travel companions among whom there were : the Brassards, the McNamaras, the Elliotts, the Millers, the Poulins, the Avards, the Nashes, the Tamposis, the Pouliots, to name only a few. Ireland and Europe, Alaska, the Panama Canal, Puerto Rico and Citrus Hills, Florida serving as some of their favorite destinations.
In addition to her parents, Ethel was predeceased by her husband Joseph, who passed away December 22, 1999. They were married in Lowell on February 23, 1943 and shared 56 years together. She was also predeceased by two sons, Joseph J. Bagshaw Jr. and Michael J. Bagshaw; and her brothers, Paul and Real Hubert.
Members of her family include a son and two daughters-in-law, David A. and Joyce Bagshaw of Nashua, and Brenda K. Bagshaw of Mont Vernon, NH; four grandchildren, Aaron M. Bagshaw and his wife Adria of Amherst, NH, Asa A. Bagshaw, living in Georgia, Victoria Bagshaw -Pazderka and her husband Tomas Pazderka, of Manchester, NH, Timothy Sean Townsend and his wife Melanie of Baltimore, and 8 great-grandchildren, Kyan and Maya Bagshaw, Adam and Alessandra Bagshaw, Gavin and Isabella Townsend and Trent and Lukas Pazderka.
There are no calling hours. A Mass of Christian Burial will be celebrated in the Parish of the Resurrection, 449 Broad Street, Nashua, Thursday morning, December 21st at 11 o'clock. Friends are invited to attend. Interment will take place at a later date. Arrangements are in the care of the FARWELL FUNERAL SERVICE, 18 Lock Street, Nashua. (603) 882-0591. www.farwellfuneralservice.com