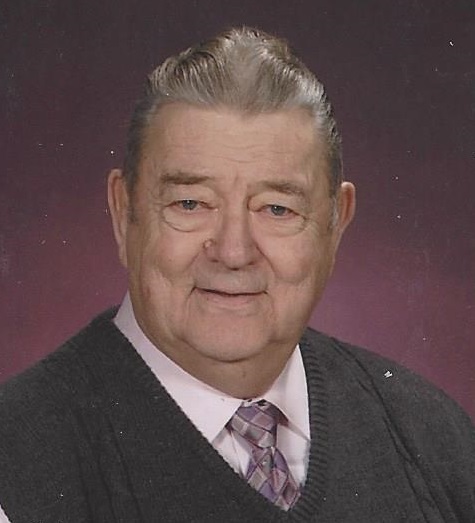 Master Sergeant Eugene Thomas Doherty, US Army (ret), 85, of Nashua, husband of Della Y. (Soucy) Crawford Doherty, passed away Saturday afternoon, March 24, 2018 at the Crestwood Healthcare in Milford, after a period of declining health.
A resident of this city for the past 48 years, he was born in Newton, Massachusetts on July 24, 1932, a son of the late M. Ambrose and Ida M. (Stephansky) Doherty.
Fondly known as "Sarge" by his family and friends, enlisted in the Army in April of 1950 and began a twenty-year career serving his country through the Korean and Vietnam Wars, retiring as a Master Sergeant in June of 1970. After his military career, Sarge established his construction business and snow removal service that he owned and operated until his retirement in 2001.
An active communicant of St. Patrick Church, he was a member of the Knights of Columbus and the Men of Saint Joseph. Mr. Doherty had also been a communicant of St. Christopher Church, where he was an Altar server, Eucharistic Minister and member of the choir. He was also active with the Legion of a Thousand Men at the Monastery of The Precious Blood in Manchester; a member of St. Kathryn's Intercessory Prayer Group in Hudson; and the Rivier Prayer Community in Nashua.
Sarge was a member of the Nashua Senior Activity Center where he performed with the Silver-Lining Chorus and was a member of the Hudson Senior Center and was an avid Line Dancer at both senior centers. Both Eugene and his wife Della were presented "The President's Volunteer Service Award for their many hours of volunteer services. (over four thousand hours). He held memberships in several military organizations including the Disabled American Veterans; Vietnam Veterans of America Chapter 992; The First Infantry Division Society; the 26th Infantry Regiment (Blue Spaders); the 28th Infantry Brigade (Black Lions); and the Non-Commissioned Officers Association.
He loved Deep Sea Fishing and enjoyed going out at least once a week to different places along the coast. In addition to his parents, Sarge was predeceased by his first wife of 45 years, Hildegard H. (Mahler) Doherty, who passed away January 5, 2001; two brothers, Paul F. Doherty and Matthew A. Doherty Jr.; and his sister, Patricia Ann Kelly.
Members of his family include his wife, Della, whom he married on September 29, 2001; son and daughter-in-law, Daniel and Annette Crawford of Litchfield; granddaughter, Nicole (Crawford) Zelli and her husband Tony of Louisville, KY; also five great-grandchildren; a brother-in-law, Joseph Kelly of South Yarmouth, MA; and many nieces and nephews.
SERVICES: The family will receive friends at St. Patrick Church, 29 Spring Street, Nashua, Tuesday evening, March 27th from 6:00 to 7:00 p.m. A Mass of Christian Burial will follow in the church at 7 o'clock. Interment prayers and Army Honors will take place at St. Patrick Cemetery in Hudson, Wednesday morning at 10 a.m. Donations may be made in his memory to Compassionate Care Hospice, Landmark Crossing, 25 Nashua Road, Suite E3, Londonderry, NH 03053. Arrangements are in the care of the FARWELL FUNERAL SERVICE, 18 Lock Street, Nashua. (603) 882-0591. www.farwellfuneralservice.com