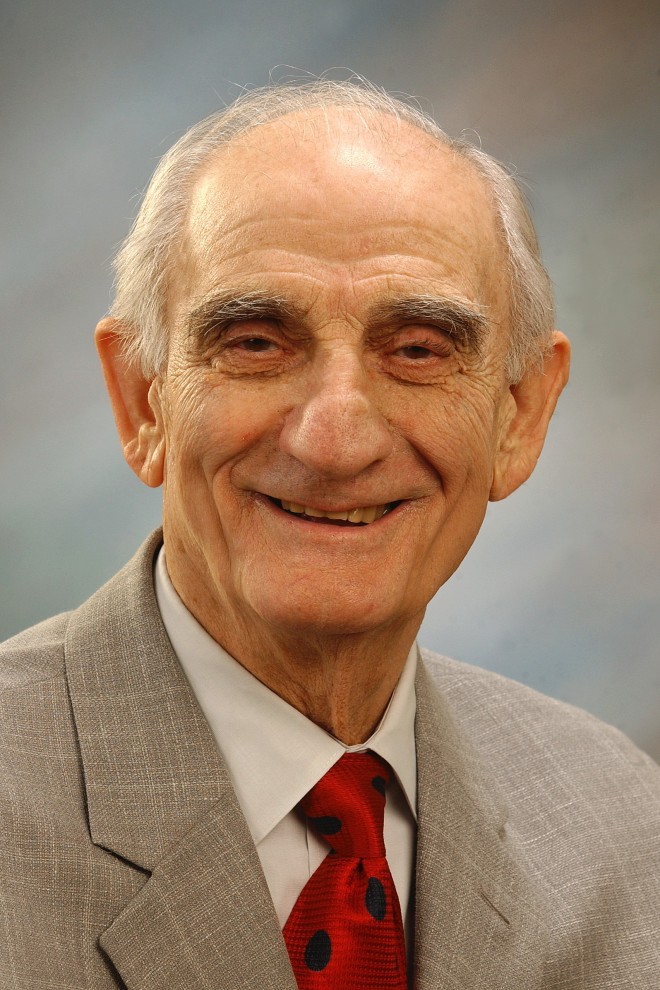 H Robert Weisman, a life time resident of Nashua, passed away peacefully on March 15, 2018 at St. Joseph Hospital surrounded by family.
Bob was born in March 11, 1921 at St. Joseph Hospital. The son of the late Joseph and Esther (Russell) Weisman, he grew up in the French Hill neighborhood of Nashua before joining the Marine Corps in 1942. Bob's assault unit was part of Operation Cherry Blossom which as the amphibious invasion of Bougainville to capture major enemy air bases and finish the Solomon Islands campaign in 1944 during World War 2. Bob was discharged in1945 as a corporal. After returning to Nashua, he attended the University of New Hampshire on the GI Bill and graduated in 1949.
In 1947, he married his beloved wife, Beatrice (Pombrio) Weisman who predeceased him in 2006. He is survived by daughters Dian Miller and her husband, Mark of The Villages, FL and Christine Gagnon and her husband, William, of Nashua, and 4 grandchildren, Shawn Gagnon and his wife Ashley, Sara Gagnon, Jennifer Gagnon and Jason Gagnon, all of Nashua; also many nieces and nephews Bob was predeceased by his five siblings, Philip Weisman, Max Weisman, Mary Kessler, Lena Weisman and Bessie Weisman.
Bob's success in the insurance industry was remarkable having started with Phoenix Life Insurance Company in 1949. He was a charter member of the Phoenix Hall of Fame, established in 1971 and was the company leader in 1971 and among the Top Ten leaders for more than 5 years. Bob was a lifetime member of the Million Dollar Round Table and served his industry as President of the Nashua Association of Life Underwriters and was also the Secretary/Treasurer of the NH Association of Life Underwriters which honored Bob as their Life Underwriter of the year in 1989.
The founding partner of Weisman, Tessier, Lambert & Halloran, Bob was very proud that the firm continues to flourish 33 years after forming his partnership with Tom Tessier in 1985 and he would have celebrated his 70th year in the business next year. Bob has always credited his success in the insurance business to his wife, Bea, for her unfailing support and his clients many of whom were his closest friends.
Bob will be remembered in the Greater Nashua community for his generosity to many organizations, but notable among them were St. Joseph Hospital where he served on the Board of Trustees for over 20 years including three years as the Chairperson from 1991 – 1994. He also was a long-time member of Rivier University's Board of Trustees for over 20 years and received an Honorary Doctorate degree in 1994.
In 2013, the Greater Nashua Chamber of Commerce named Bob "Citizen of the Year" for his contributions and influence on many organizations in the greater Nashua community. In addition to his service to St. Joseph Hospital and River University, he also served on the advisory board of the Salvation Army, the board of the Red Cross and the Heart Fund.
A devoted family man, Bob loved time with his family, especially his grandchildren and spending time with his friends at The Huntington at Nashua. He was an avid reader of historical books, enjoyed horseback riding, and was a Boston sports fan. Bob's distinctive style and humility will be remembered by all who know him. His love of cowboy hats and boots and his great sense of humor, were only a few qualities that made Bob unique among his peers. He was loved and treasured and will be greatly missed.
A service was held at Temple Beth Abraham, 4 Raymond Street, Nashua on Friday, March 16, 2018. The family requests that in lieu of flowers, donations may be made to The Bea and H. Robert Weisman Scholarship Fund, Rivier University 420 Main St, Nashua, NH 03060. A Celebration of His Life is being planned and will be held at a later date. Arrangements were in the care of the FARWELL FUNERAL SERVICE, 18 Lock Street, Nashua. www.farwellfuneralservice.com