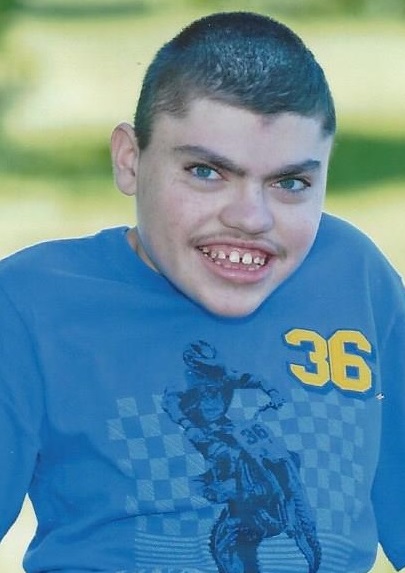 Jonathan Michael Gagnon, 27, of Tilton, formerly of Nashua and Pittsfield, NH, passed away peacefully on Thursday morning, January 25, 2018 at the Concord Hospital Campus, which he considered a home away from home with all his friends where he was so well-known and loved.
Jonathan was born in Nashua on April 26, 1990. Members of his family include his mother, Laurie (Veiga) Gagnon of Tilton; his brother Peter (Bro) Gagnon and grandmother, Mary-Jane (Emerald) Veiga both of Hollis; his aunt and uncle, Constance and Bela Kiss of East Falmouth, MA; and several cousins. Jonathan was predeceased by his grandfather, Arthur F. Veiga; and his aunt, Michele "Shelly" (Veiga) Chartier. Also his service dog Molly.
He attended Broad Street Elementary School in Nashua and Elementary School in Pittsfield. Jonathan continued his education at Spaulding Youth Center in Northfield and was presently attending the TLC (adult day care) in Concord, NH.
Firefighters, EMS, Police and all his other buddies in the medical field were his "family." Jonathan enjoyed his hospital stays like they were field trips. He also loved trips to the Farmer's Market, yard sales, the Dollar Store, Burger King, The 99, and especially loved shopping at Market Basket. He always thought of others when spending his cash, especially parts for his "Bro's" off road truck (Sami). The beach and camping were also very special to him. Jonathan spread love to everyone with a smile on his face. He enjoyed baking and making deliveries and his well known favorite saying was "OH MAN!"
The family will receive relatives and friends at the FARWELL FUNERAL HOME, 18 Lock Street, Nashua on Saturday, February 3rd from 1 to 3 p.m. A Prayer Service will follow in the funeral home at 3 o'clock. He will be laid to rest at East Cemetery, Hollis, NH in the Spring. A random act of kindness done in Jonathans name, or Donations may be made in Jonathan Gagnon's memory to: Spaulding Youth Center, Attention Developmental Office, 72 Spaulding Road, Northfield, NH 03276. Arrangements are in the care of the FARWELL FUNERAL SERVICE. (603) 882-0591. www.farwellfuneralservice.com