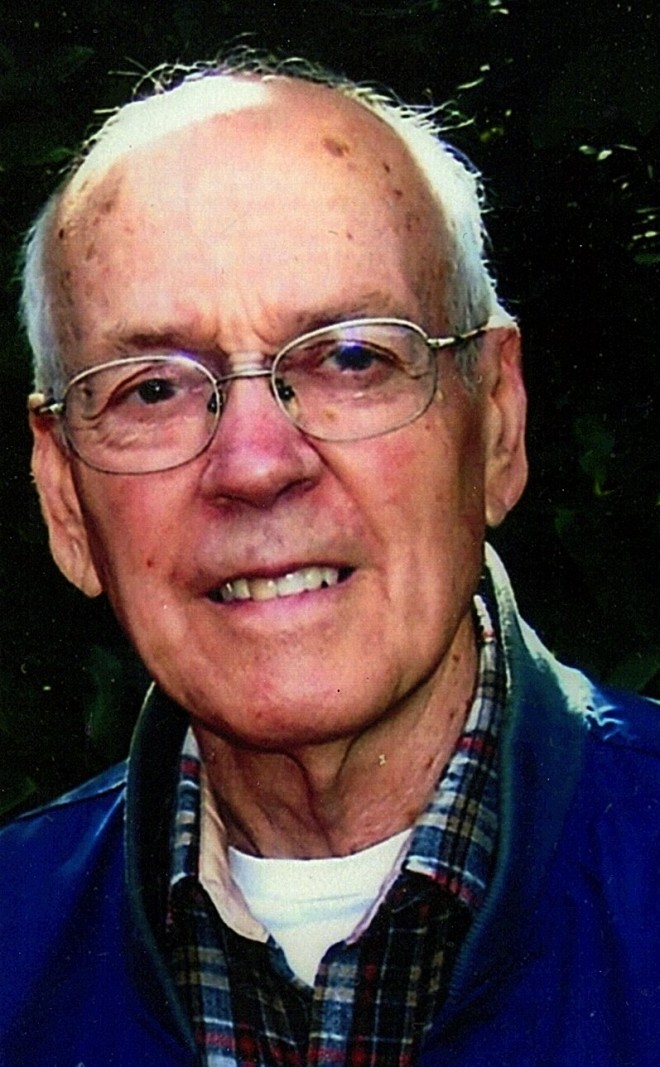 Joseph J. Calvetti, 91, of Nashua, passed away peacefully on Monday morning, May 15, 2017 at the Community Hospice House in Merrimack.
    A resident of Nashua for many years, Joe was born and raised in Milford, NH the youngest son of eight children of the late Mary R. (Jacques) and Joseph A. Calvetti. Joe thoroughly enjoyed his childhood in Milford, spending most of his time outdoors either fishing and hunting or just spending time with his siblings. Like so many of his high school classmates, the war caught up with him and he joined the US Army and served in France towards the end of World War II.
    Upon returning from the war, he met his wife Claudette T. LeSage and settled in Nashua and raised their family. Mr. Calvetti was employed at Nashua Corporation where he worked for over 30 years in various departments. He was a hard worker and always provided for his family.
   Joe could always be found puttering around in his garden or trying to find the last box to fill on his latest crossword puzzle. Having played numerous sports in his early years, he continued to enjoy following local sports. He was also a devoted cribbage player and played in various leagues throughout his life, including a Chelmsford league that he always looked forward to and continued to play in up until a month ago. Joe was a longtime communicant of St. Christopher Church.
    Members of his family include his wife of 56 years, Claudette T. Calvetti; his three children, Deborah Calvetti of Nashua, Sandra (Calvetti) Lones of Milford and James Calvetti of Townsend, MA; two grandchildren, Amanda and Meghan Lones of Milford; his youngest sister, Dolores Leger of Milford, NH; also nieces, nephews and cousins.
     In addition to his parents, Joe was also predeceased by two brothers, William and Domenic Calvetti; and four sisters, Juliette Fraser, Dorothy and Jacqueline Calvetti and Marie Curcio.  
    Calling hours will be held at the FARWELL FUNERAL HOME, 18 Lock Street, Nashua on Thursday evening, May 18th from 6 to 8 p.m. A Mass of Christian Burial will be celebrated in St. Christopher Church, 62 Manchester Street, Nashua, Friday afternoon at 1:30 p.m. Interment will follow in St. Francis Xavier Cemetery. Family and friends are invited to attend and will gather at the church. In lieu of flowers, donations may be made to St. Joseph's Community Services, 70 Temple Street, Nashua, NH 03060. Arrangements are in the care of the FARWELL FUNERAL SERVICE. (603) 882-0591. www.farwellfuneralservice.com