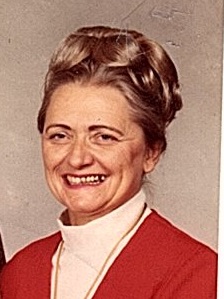 Lorene "Nicky" (Morefield) Nicola passed away peacefully at her home in Nashua, NH on June 11, 2017 at the amazing age of 96. Lorene ("Nicky") was born in Enid, OK on November 16, 1920, the second of 7 children. She graduated from Enid High School and studied languages at Northwestern State University in Alva, OK. She was preceded in death by her husband of 47 years, Stanley C. Nicola, her parents: Ruby (Branson) and Glenn Morefield, brothers: Marion, Dean, Robert and Richard Morefield, and a sister Nell Jean Meyers.
Lorene is survived by a sister: Della Ann (Morefield) Polwort (and Neal) of Enid, OK, and her children: Charles (and Clarice) Nicola of Oklahoma City OK, Karel Nicola-Goodenough of Tulsa OK, and Yvette Nicola (and John Muha) of Spring TX. Lorene will be missed by her grandchildren: Kristin (Nicola) and Ken Coughlin of Oklahoma City, April Bell of Nashua, NH, and Taylor Muha of Spring, TX. She also will be missed and remembered by her step-grandsons: Jeff Muha of San Diego CA and Justin Muha of Portland OR and her great-grandchildren: Katie (Corbett) Roswell, Andrew Corbett, and Alex Coughlin (all of Oklahoma), plus many nieces and nephews.
Lorene was active on the board of directors for the Tulsa council of "Camp Fire Girls" (as it was called then), the Boy Scouts of America and the Newcomers Club when the family moved to Nashua, NH in 1967. She was an accomplished cook, gardener, and seamstress, self-taught creator and decorator of beautiful wedding and birthday cakes; created keepsake ceramic pieces and various crafts; and loved doing research. She loved to read, and it didn't matter the subject. She would spend countless hours helping others find answers to their questions or projects (long before the internet). She studied Bonnie Prudden myotherapy techniques and was an accomplished accupressurist.
In lieu of flowers, memorial donations may be made to a cause of your choosing, but of particular interest to Mrs. Nicola was animals, Native Americans, cancer research, NH Meals On Wheels, etc.
Condolences for the family may be offered online at [MEMORIAL WEBSITE URL].
Arrangements are in the care of the FARWELL FUNERAL SERVICE, 18 Lock Street, Nashua. (603) 882-0591. www.farwellfuneralservice.com