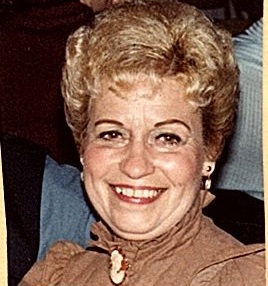 Lorette L. (Boissonnault) Ouellette Owens, of Nashua, passed away at her home on Friday afternoon, June 23, 2017.
She was born in Mount Carmel, Quebec, Canada on December 12, 1925, a daughter of the late Luc and Ernestine (LaFrance) Boissonnault. The family moved to the United States when Lorette was a year old and settled in Nashua, residing here all of her life. Educated in Nashua, Lorette attended Infant Jesus and Saint Louis de Gonzague Parochial Schools.
Lorette was widowed by her first husband Joseph A. Ouellette and her second husband, Donald M. Owens, who passed away on September 25, 2004. They were married at Saint Patrick Church in Nashua and shared 37 years together.
Mrs. Owens was employed at Sprague Electric Company for 24 years as a Quality Control Inspector; and then Ingersoll Rand for 12 years as an office supply clerk, receptionist and telephone operator. She served on the committee for the Diamond Club for 2 years and as the treasurer for 2 years. Lorette was also appointed to the board of directors for IMPCO for 2 years.
Since her retirement, she loved to work in her yard, tending to her flowers, doing crafts, cross stitch, and travel. Lorette was a member of the Nashua Senior Center and was Vice President of the Senior Power Club for 7 years and was well known for her famous "Whoopee Pies" at their bake sales.
She was predeceased by 4 brothers, Luc, Ernest, Paul and Leonard Boissonnault; four sisters, Alma Pelletier, Rose Jette, Ida Boissonnault and Bernadette Godbout. Lorette was also predeceased by her son-in-law, Robert Pelkey, who passed away in January of this year.
Her family includes nine children: four sons and their wives, Dennis and Deborah Ouellette of Merrimack, NH, Joey and Celeste Ouellette of Mont Vernon, NH, Marc and Nedia Ouellette, and Paul Ouellette all of Nashua; five daughters and their husbands, Diane Pelkey (widow of Robert) of South Carolina, Carmen and Stephen Robbe of Yarmouth, ME, Claire and Francis Bradley of Manchester, NH, Marie and Michael Shaw of Huntsville, AL, and Jane Ouellette of Lakeland, FL; also fifteen grandchildren and seventeen great-grandchildren that she adored dearly; two sisters, Lena Desjaurdy of Florida, Cecile Lawrence and her husband George of Litchfield, NH; two sisters-in-law, Bronca Boissonnault and Shirley Boissonnault of Wilton, NH; and many nieces, nephews and cousins.
There are no calling hours. A Mass of Christian Burial will be celebrated in St. Patrick Church, 29 Spring Street, Nashua, Saturday, July 15th at 10 a.m. Friends are invited to attend. The family has requested that donations may be made in her memory to Home Health & Hospice Care, 7 Executive Park Drive, Merrimack, NH 03054. Arrangements are in the care of the FARWELL FUNERAL SERVICE, 18 Lock Street, Nashua. (603) 882-0591. www.farwellfuneralservice.com