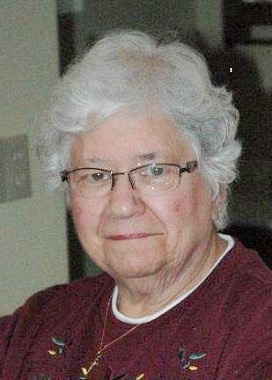 Marrian Cerqua Goodhue, 85, went to join the Lord and rejoin other members of her family, as she passed away peacefully on December 24, 2017 at the Bedford Nursing and Rehabilitation Center in Bedford, New Hampshire.
Marrian was born in Melrose Park, Illinois on August 3, 1932, as the fifth-born child of the seven children of Domenico (Dominic) Cerqua and Michelina Petracci Cerqua. As a first generation American daughter of Italian immigrant parents, she was raised in a home full of strong ethnic traditions, close family ties, and a love for others. She was named in honor of her maternal grandmother, Marianna Petracci.
Marrian was married to her loving husband, Donald L. Goodhue for 41 years, until his passing on September 27, 1996. They met while Donald was serving in the U.S. Air Force at what was then known as O'Hare Air Force Base, and lived during their marriage in the Chicago suburbs of Melrose Park, Stone Park and Addison, as well as Windsor Locks (Connecticut), Cape Elizabeth (Maine) and Plaistow (New Hampshire). During the last four years of her life she lived in Bedford, NH. Marrian worked as a typist at International Harvester when she met Donald, but thereafter spent the majority of her life devoted to raising her two sons, and spending time with her grandchildren. Marrian was known for her gift of hospitality, as she loved to spend time with others, especially as she offered them something to eat or drink. True to her ethnic heritage, she had the ability to create wonderful food in abundance, to the enjoyment of family and friends, and especially the friends of her two sons. She also enjoyed spending time with her many good friends, playing cards or board games, playing bingo on a weekly basis, going to Foxwoods, reading the paper and her daily mail, and just visiting and going out to lunch or dinner with her close friends and family.
Marrian is survived by her two sons, Larry Donald Goodhue and his wife Patricia of Bedford, NH, and Kenneth Richard Goodhue and his wife Barbara of Westford, MA. She is also survived by her grandchildren, Tyler Goodhue and his wife Christine of Keene, NH, Emilee Goodhue of Manchester, NH and Donald Goodhue of Westford, MA. Marrian was also blessed to have received her first and only great grandchild, Damon Chiyong Goodhue, in July of 2017. Marrian is also survived by her sister-in-law's, Lena Goodhue and Judy Hayes, as well as numerous nieces and nephews.
Marrian was preceded in death by her parents, Domenico and Michelina, her four brothers, Joseph, Angelo, Armando and Louis, her sister Frances Neely, and her deceased infant sister Francesca Cerqua, as well as her siblings from her mother's first marriage; three half-brothers, Frank, Ralph and Victor, and half-sister Laura.
Relatives and friends of Marrian and her family are invited to her visitation on Friday January 5, 2018 from 2 until 4 p.m. and 7 until 9 p.m. at the Farwell Funeral Home, 18 Lock Street, Nashua, NH. She will be honored in a funeral mass at the St. Luke the Evangelist Parish at Holy Angels Church, 8 Atkinson Depot Road, Plaistow, NH on Saturday January 6, 2018 at 10 a.m.