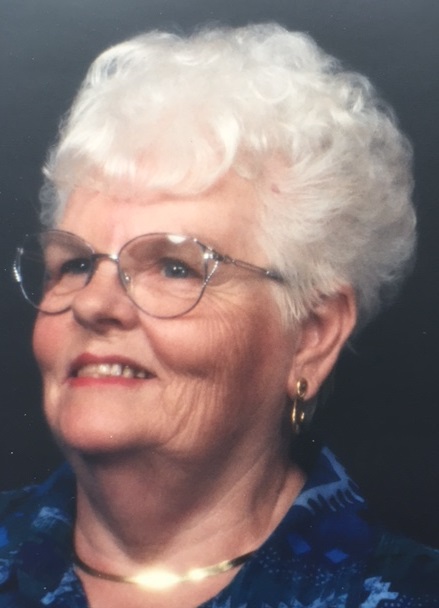 Mary L. (Nolan) Sargent, 92, a lifelong Nashua, NH native, formerly of Milford St. Nashua, died peacefully, amongst her family Thursday,  May 11, 2017, at Fairview Nursing Home, Hudson, NH following several years of declining health.
She married George W. Sargent, September 1947, and were married for 62 years at the time of his passing in December 2009. Mary was born in Nashua on March 14, 1925 to John and Florida (Bernier) Nolan. She graduated from Nashua High School, Class of 1944.
After graduation, Mary began a career at Nashua Corporation as a typist. Mom was quite the lady, she believed in herself. She applied for a typist position despite the fact that she wasn't really a typist! She taught herself while on the job!  In her later years, she worked for the Nashua Police Department as a Crossing Guard. Her post, for many years, was at Jean's Foodland. At the same time, she had a second job, at Nashua High School, in Food Services. She was in charge of the Salad Bar. Mary was referred to as "The Salad Bar Lady".
Mary, from her very early years, always loved to dance! She took tap dance lessons for many years. Her passion was enjoyed into her late seventies when she danced with the Seniors in their annual Dance Reviews. Mary's hobbies were knitting her daughter's sweaters, scarves, hats and mittens. She loved to cook for her family. Mary was taught by the best. Her father, John Nolan, was a cook during WWI in France, and her uncle, Levi Lord, who owned Lord's Inn at many locations in Nashua taught her many great cooking secrets.
Our mother enjoyed her travel years. She traveled to the Elks conventions and Navy reunions nationwide with her husband, George. Mary enjoyed many years in Florida as a "snow bird." Her most favorite trip was to Europe, where she toured Italy with her sister-in-law, Alice Nolan. She spoke of that trip often.
Mary had the most beautiful personality. She would easily start a conversation with strangers. Ward 1 voters enjoyed having her as a moderator at Charlotte Ave. School. Mary was a very proud woman.  She was dressed and ready to go whenever the opportunity presented itself. The true passion of Mary's life was her family. As her daughters became adults and parents, they saw with new eyes what she gave them, a precious and priceless gift as a loving, self-sacrificing mother.
Mom experienced a stroke many years ago and she personified "The Greatest Generation," with courage and determination as she addressed life's difficulties. Mary will truly live forever in the hearts and minds of those she has left behind. She never lost her grace, her charm or her smile! Mary touched the hearts of everyone who knew her and she left her sweet legacy with many.
Mary was pre-deceased by her parents, John and Florida Nolan, her husband, George, her brother and very best friend, John Nolan, Jr., her brother-in-law, John "Jack" Sargent, and two infant grandchildren, Amy Richard and Kraig Ball. She is survived by three daughters, Nancy Plourde and her husband Ron, Susan Richard and her husband, John, Brenda Ball and her husband Vinnie, all of Nashua; seven grandchildren, Ryan Plourde and his wife Tara, Scott Plourde and his wife, Stacie, Jeff Richard and his wife, Sheri, Keith Richard and his wife, Amy, Kyle Ball and his girlfriend Sarah, Melissa (Ball) Woelflein and her husband John and Erik Ball. Nine great grandchildren, Grant and Brendan Plourde, Mackenzie, Cassidie and Camden Plourde, Colton Richard, Emily and Carter Richard, and Sarah Woelflein. Sister-In-Law, Alice Nolan, of Nashua, Sister-In-Law, Theresa Sargent of Chelmsford, MA., several nieces and nephews.
Mary's family would like to express a very special thank you to her Extended Family, at Fairview Nursing Home in Hudson, NH. The staff took very good care of her and her entire family. They were the light and laughter in her life over the past 9 years. Each and everyone who are near and dear to our hearts, we thank you for the support you have given to us and the love you shared.
Mary and her family were blessed with the love and care of special people called Home Health and Hospice. They helped us all maneuver the many hills and valleys of the dying process with love and compassion. We thank you for your commitment to honor the dying with respect and love.
Calling hours will be held at the FARWELL FUNERAL HOME, 18 Lock Street, Nashua, Monday May 15, 2017, 4-7pm.  A Mass of Christian burial will be held Tuesday at 11 am in the Parish of the Resurrection, 449 Broad Street, Nashua NH 03063. Interment will follow at Holy Cross Cemetery in Hudson. Friends are invited to attend. In lieu of flowers, donations may be made to the Home Health and Hospice Care 7 Executive Park Drive Merrimack, NH. 03054. Arrangements are in the care of the FARWELL FUNERAL SERVICE. (603) 882-0591. www.farwellfuneralservice.com