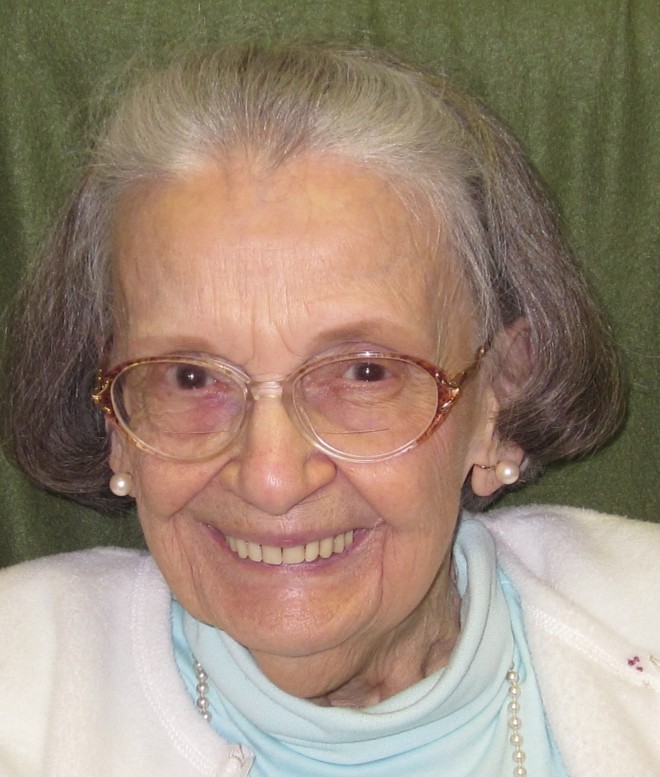 Muriel Labrie passed into the arms of Our Lord on Wednesday, August 23 after a period of declining health.  Muriel was born in Nashua on February 24, 1928 the youngest child of Alfred and Gracieuse (Gariepy) Brodeur.  She married Joseph Philippe Labrie on October 25, 1947.  Together they raised a family of 12 children. Joseph passed on May 14, 1983 at the age of 57.   In addition to her parents and husband, Muriel was pre-deceased by her siblings Gerard, Paul and Laurien Brodeur, and her sister Georgette (Brodeur) Morrissette; her children Alfred and Catherine, and her son-in-law Michael Lavoie.
Muriel was an amazing mother and friend to her children, and took such pleasure in meeting each of her grandchildren and great grandchildren.  She sewed clothing for her children, and knitted hundreds of pairs of mittens which she donated to local schools for distribution to needy children.  In addition to knitting, she was an avid reader and loved to tend her flower garden.  She also enjoyed (and sometimes cheated at) playing rummy.  For several years she worked at FW Woolworth on Main Street in Nashua.
Muriel is survived by two sons, Robert and Joseph (Susan) Labrie, daughter-in-law Cecile Labrie, and eight daughters: Alice (Paul) Roy, Anne (James) Jasper, Marguerite (James) Hinkle, Louise Lavoie, Jeannette (Matthew) Erickson with whom she lived for many years, Suzanne (Robert) Linehan, Elizabeth (Russell) Paradis, and Mary (Brian) Crogan.  She also leaves her sister-in-law and best friend Marguerite Caron.  Muriel's legacy includes 30 grandchildren, and 29 great grandchildren (so far).  She was well loved and will be greatly missed.
The family wishes to extend special thanks to the staff at the Courville at Nashua who took exceptional care of Muriel in her final days.
At Muriel's request, there will be no visiting hours.  Her Funeral Mass will be celebrated in St. John XXIII Parish at Infant Jesus Church, 121 Allds Street, Nashua, Saturday morning, August 26th at 9:30 a.m.  Interment will follow at the Old St. Louis Cemetery.  Family and friends are invited to attend and are asked to gather at the church.  Notes of condolence are welcome at www.farwellfuneralservice.com.  Arrangements are in the care of the FARWELL FUNERAL SERVICE. (603) 882-0591.