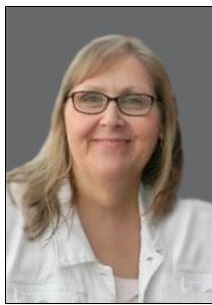 Patricia Ann (Jandreau) Seymour, 53, of Hudson, NH, beloved wife of Neil D. Seymour, passed away Monday afternoon, January 15, 2018 at Southern New Hampshire Medical Center, after a brief illness.
A resident of the Nashua area for the past 30 years, "Patty" was born in Hartford, Connecticut on September 18, 1964, a daughter of Edward and Elizabeth (Whittemore) Jandreau. She grew up in Greater Hartford and was a graduate of Enfield High School, Class of 1982. She achieved her BS in Business from Southern New Hampshire University in 2007 with high honors and her Masters in Marketing from Full Sail University in 2012
Patty has been employed as marketing manager with Salesforce in Burlington, Massachusetts for the past 3 years.
Patty loved traveling and was a Disney fanatic. She was a creative artist who enjoyed painting and pottery. She was passionate about animals and cared deeply for their welfare. She was also a member of New Life Christian Church of Hudson.
Members of her family include her husband Neil, whom she married in April 2005; two brothers, Edward Jandreau and Thomas Jandreau; their precious cat Pookie; also many nieces, nephews, cousins and friends.
Calling hours will be held at the FARWELL FUNERAL HOME, 18 Lock Street, Nashua on Sunday afternoon, January 21st from 2 to 6 p.m. Her funeral service will be held at the New Life Christian Church, 272 Lowell Road, Route 3A in Hudson, Monday morning at 11 o'clock. Interment will follow at Edgewood Cemetery in Nashua. Friends are invited to attend. Donations may be made in her memory to ASPCA, P.O. Box 96929, Washington, DC 20090-6929. Arrangements are in the care of the FARWELL FUNERAL SERVICE. (603) 882-0591. www.farwellfuneralservice.com