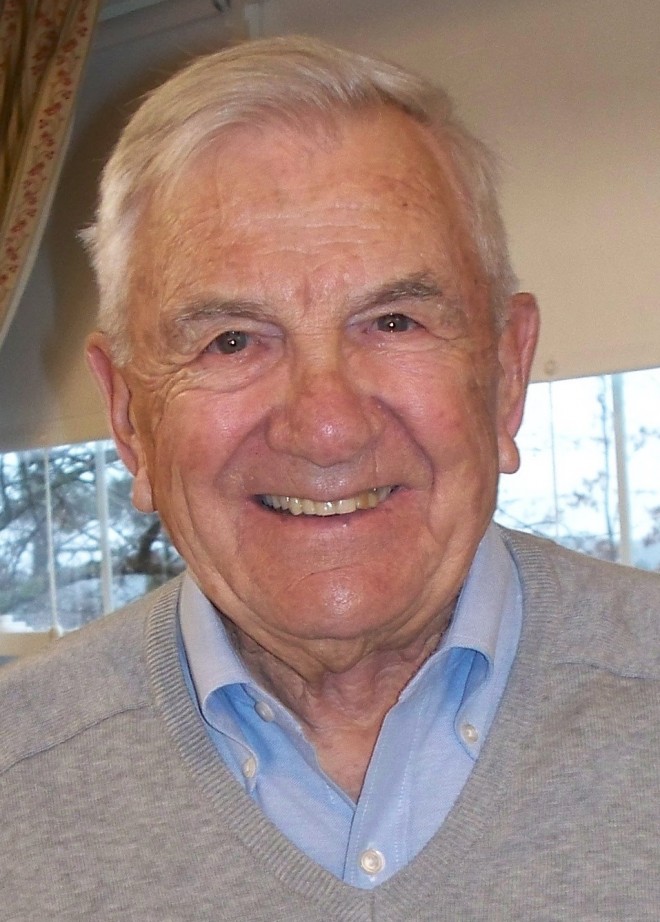 Ronald Arthur ("Ronnie") LeBlanc passed away peacefully at 11:40 a.m. on June 5, 2017 at the Maine Medical Center in Portland, ME, at age 95. He was born on February 28, 1922 in Campbellton, NB, the first of four children born to Philippe and Yvonne (Bujold) LeBlanc. In August 1923, when he was just eighteen months old, Ronnie left Canada with his parents, who settled in Nashua, NH. He attended St. Louis de Gonzague School, Crowley Elementary School, Nashua Junior High, and Nashua High School, where he played violin in the school orchestra, ran cross-country, and played on the tennis team.
Upon graduation from NHS in 1940, he joined the Civilian Conservation Corps (CCC), serving for six months in the road-building project on Mount Battie just outside Camden, ME. Before enlisting in the U.S. Marines in July 1942, he worked briefly at the Jackson Mills on Canal Street in Nashua and shortly thereafter at the Nashua Corporation on Franklin Street (at that time it was called Nashua Gummed and Coated Paper). Called up for active duty in July 1942, Ronnie underwent basic training at Paris Island, SC, and then attended AMF training School in Jacksonville, FL, before being deployed to the Pacific Theater early in 1944. There he served as an aircraft mechanic assigned to a fighter squadron that flew F-4U Corsairs on bombing runs launched from Makin (now Butaritari) Island, the Eniwetok Atoll, and then Kwajalain Island.
Ronnie returned stateside in May 1945 and married Jeannette Chomard (1922-2000), whom he had met while ice skating in Nashua back in January 1942, just seven months before he was called up for active duty. The newlyweds travelled cross-country by train to El Centro, CA, where he served out the final few months of his military enlistment at the Marine base there. He was honorably discharged from the Marines as a Staff Sergeant on December 14, 1945. Ronnie went back to his old job at the Nashua Corporation in January 1946 and worked there for over forty years, right up until his retirement in 1987. He worked in the Gummers Department, initially as a helper, then as a machine operator, and finally, in 1949, as a foreman. At that time, he was the youngest – and the highest paid – foreman at Nashua Corporation, supervising 33 people in this department. Subsequently, he became the foreman of the Breakers Department and the Combiners Department as well. To prepare for these jobs, he attended Lowell Tech for two years of night school and later, as a member of the Industrial Management Club of NH, he attended Industrial Management Seminars each year at UNH.
In addition to taking annual summer vacations with his family (to such places as Hampton Beach, the White Mountains, Cape Cod, Lake George, New York City, and Washington, DC) and periodic trips to visit Canadian relatives (mainly to Montreal, QC, Carleton, QC, and Campbellton, NB), Ronnie enjoyed playing golf, a sport that he discovered only in the late 1960s, when he was already in his forties. He played mainly at the Amherst Golf Course, Green Meadows (Hudson, NH), and the Whip 'or Will Golf Course (in the Card Shop League). After his retirement, he also played golf regularly at courses in Port Charlotte, FL, and Myrtle Beach, SC. He made two holes-in-one, both of them at the Amherst Golf course (on the same hole).
During their 55-year marriage, Ronnie and Jeannette enjoyed socializing as a couple by going out dancing (especially at the VFW Hall on Quincy Street in Nashua on Saturday nights) and going out to play cards at the homes of friends and relatives. They became "snow birds" after Ronnie retired, travelling with a group of other Nashua couples each winter to the warmer climate down south. Following Jeannette's death in 2000 (following two strokes), Ronnie lived by himself for several years in Nashua, but moved in 2006 to Falmouth, ME, buying an apartment at Ocean View, a retirement community located there. He made some close friends and acquaintances at his new residence. He even managed to take a few vacation trips (two of them to distant Seattle) and, for a while, he continued to play some golf. But the broken hip that he suffered from a fall in February 2013 and the increasing pain of arthritis slowed him down quite a bit during his final few years. He still managed to get around fairly well with a cane or a walker, however, participating in many of the activities at Ocean View and going out for lunch each weekend with one of his three adult children. And he very much enjoyed watching old films on television and rooting for his favorite Boston sports teams – especially his beloved Red Sox – from the comfort of his easy chair. He will be greatly missed by all those who loved him for his sense of humor, his cheerful disposition, and his easy-going personality.
He was preceded in death by his wife Jeannette, his mother Yvonne, his father Philippe, and his three siblings and their spouses: Irene and Victor Zibolis, Jeannine and Robert Beaudin, and John and Rita (Beauregard) LeBlanc.
He is survived by his three children and their spouses: Richard and Doris (Lavoie) LeBlanc of Scarborough, ME, Ronald and Lynda (Galard) LeBlanc of Edmonds, WA, and Michele and Gary Gagne of Cape Elizabeth, ME; by his seven grandchildren and their spouses: Brenda and Thomas Van Dzura of Essex Junction, VT, Justin LeBlanc and his ex-wife, Hope Freeman LeBlanc, both of South Portland, ME, Renée and Gibson Fay-LeBlanc of Portland, ME, Anne and Aaron Davis of Falmouth, ME, Martin and Amanda (Wright) LeBlanc of Seattle, WA, Nicole Gagne of South Portland, ME, and Christopher Gagne and his fiancée, Jenie Song, both of Arlington, MA; and by his eleven great-grandchildren: Kyle, Darren, and Joseph Van Dzura of Essex Junction, Andrew and Theo LeBlanc of South Portland, Liam and Emmett Fay-LeBlanc of Portland, Owen, Vivian, and Edwin Davis of Falmouth, and Amélie LeBlanc of Seattle.
In lieu of flowers, Ronnie requested that donations be made either to the Special Olympics of Maine, 125 John Roberts Road, South Portland, ME 04106 or to the Special Olympics of New Hampshire, 650 Elm Street, #200, Manchester, NH 03101.
A Funeral Mass will be held on Saturday, June 24th, at 10:00 a.m. at Infant Jesus Church, 121 Allds Street, Nashua, NH 03060. A Rite of Committal, immediately following the Mass on Saturday, will be held at St. Louis Cemetery, West Hollis Street (across from St. Joseph's Church), Nashua, NH 03062. A Bereavement Reception will be held at 11:45 a.m. on that same day at the Alpine Grove Banquet Facility, 19 South Depot Road (Rt. 111A), Hollis, NH 03049. On Thursday, June 29th, a Celebration of Life Reception will be held at 3:00 p.m. at Blueberry Commons (across from 7 Blueberry Lane), Ocean View Retirement Community, in Falmouth, ME 04105.
Arrangements are in the care of the FARWELL FUNERAL SERVICE, 18 Lock Street, Nashua. (603) 882-0591. www.farwellfuneralservice.com