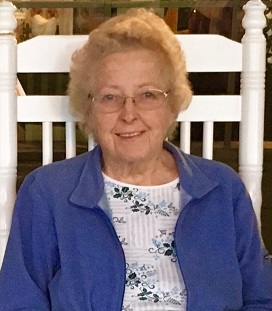 Rosamond Caswell "Roz" Brown, 88, of Yuma, AZ died at her home early Wednesday morning, January 3, 2018 surrounded by her children, of heart complications. She was born on June 1st, 1929 in Nashua, NH, the daughter of Maynard and Dora (Roy) Caswell.
She grew up in Nashua and graduated from Nashua High School in 1947. After graduation, she went to work for the New England Telephone Company as a telephone operator. During Roz's career she gave birth to four children. Due to the draconian company maternity rules of the 1950's, Roz was terminated from the company four times to give birth to her children. After each birth she was rehired, but only at an entry level position. In spite of this challenge, Roz, with hard work and perseverance, became one of the first women to attain a supervisory / management position in NH
Roz married Kenneth Brown of Hollis, NH and moved the family to Spokane, Washington in 1968 where she was able to transfer to the Pacific Bell Telephone Company.
From 1971 to 1978, Roz and Ken owned and managed the Leonard Paul Store in Coolin, Idaho. After 1978 they traveled and lived throughout the country making many new friends along the way.
Roz & Ken moved back to NH in 1985, and she went to work at CMC, (Catholic Medical Center) in Manchester, NH retiring in 1996 and moved to Yuma, AZ. In retirement, she enjoyed traveling, visiting her children and spending time with her grandkids, she also liked gardening, playing cards, pool and socializing with friends.
She was predeceased by her husband Kenneth, parents, Maynard and Dora Caswell, brother Merton Caswell, two sons-in-law, Randolph Goetz and Richard Bardsley. She is survived by her two daughters, June Bardsley of Amherst, NH and Sally Goetz of Florence, TX, and her two sons, Stephen Carrier and his wife Uthaiwan of Huntersville, NC, and Thomas Carrier and his wife Miriam of Hermosa Beach, CA,; her partner Raymond Johnson of Yuma, AZ; six grandchildren, Andrew Mathieson, Lisa and Timothy Carrier, Ashley and Carly Carrier, and Trevor Goetz; three great-grandchildren, Natalie Carrier, Rowdy and Tuff Goetz; her two brothers Millard Caswell and his wife Barbara of Boynton Beach, FL, Arthur Caswell of Nashua, sister-in-law Beverly Caswell; also nieces, nephews and cousins.
The family will receive relatives and friends at the FARWELL FUNERAL HOME, 18 Lock Street, Nashua on Saturday morning from 10:30 to 11:30 a.m. Her funeral service will follow at 11:30. The Rev. Dr. Margaret E. Lewis, will officiate. Interment will take place in Edgewood Cemetery. Arrangements are in the care of the FARWELL FUNERAL SERVICE. (603) 882-0591. www.farwellfuneralservice.com