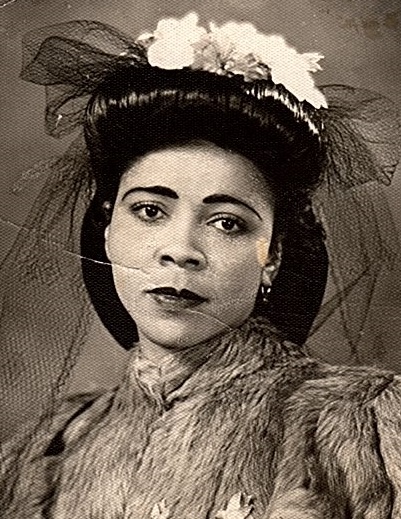 Thelma (Jones) Meyers, 96, of Nashua, widow of Forest W. "Willie" Meyers, passed away peacefully Tuesday morning, June 27, 2017 at the Kindred Transitional Care – Greenbriar, after a period of declining health.
Mrs. Meyers was born in Mississippi on May 30, 1921, the eldest daughter of the late Henry and Ida Jones. A resident of Nashua for many years, she also made her home in Virginia, California, Boston and West Medford, Massachusetts.
Throughout her life, Thelma was known as a tall, classy and intelligent woman. She and her husband Willie were also avid gardeners, growing flowers, herbs and vegetables. Thelma loved to cook and many family and friends were the recipients of her delicious meals.
As a young woman, Thelma was a professional Jazz singer and toured with her cousin, Nat King Cole (Nathaniel Adam Cole). Thelma was employed as an Inspector at Raytheon in Andover, Massachusetts for 30 years. Later in her life, Thelma became a faithful and well-loved member of the Hollis Congregation of Jehovah's Witnesses. Many of whom became like family.
Thelma is survived by her great nieces, Yolanda Lewis of Baltimore, MD and Michelle Lucier of Nashua, NH; her great nephew, Alexander Loatman of Fredericksburg, VA whom she helped raise. She is also survived by two sisters, Barbara Reed and Ida Williams; as well as many nieces, nephews, grandnieces and grandnephews. In addition to her parents, Thelma was also predeceased by four sisters, Mary, Ethel, Dessa and Ada.
There are no calling hours. Her memorial service will be held on Saturday afternoon, July 8th at 4 p.m. at the Kingdom Hall of Jehovah's Witnesses, 282 Broad Street, Route 130, Hollis, NH. Interment will take place at a later date in Woodlawn Cemetery in Nashua.
Arrangements are in the care of the FARWELL FUNERAL SERVICE, 18 Lock Street, Nashua. (603) 882-0591. www.farwellfuneralservice.com