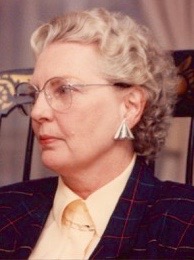 Veda Ann (Lane) Richardson of Nashua, NH passed away peacefully at the Kent Village at The Huntington in Nashua on Sunday evening, June 4, 2017 after a long battle with Alzheimer's Disease.
Veda was born on January 21, 1931 in New Haven, CT to Frederick Henry Lane and Veda Florence (Wattis) Lane of Hamden, CT.  She grew up in Hamden and attended Hamden public schools, graduating from Hamden High School in 1948.  In 1947 she attended her Junior Prom with her future husband of 67 years, Thomas Franklin Richardson Jr. of New Haven, CT.  Veda and her friends, including lifelong friend DeeDee (Somerville) Krick, (introduced Tom to Veda) were also active members of the High Lane Club in Hamden.  Veda attended Beaver College (now Arcadia University) in PA for one year and then married Tom on June 18, 1949 in the beautiful formal garden of her Aunt Toady and Uncle Sherwood Lane in Hamden, CT.
Following their wedding Veda & Tom moved to Georgetown, SC where Veda delivered their first child in the local doctor's office. Tom worked for a local radio station. Veda and Tom then moved to Columbia, SC where Tom obtained his degree in Electrical Engineering at USC and Veda delivered their second child. Upon moving to Williamstown, MA in 1953, Veda delivered their third child and continued her very full-time job as mother and housewife. After six years in Williamstown, the family of five moved to Auburn, NY where Veda once again delivered a child, their only daughter. Two years later the family moved to Concord, NH where, for her final delivery room performance, Veda delivered their fifth child.
Veda's primary employment for about twenty years was as a dedicated and loving housewife and mother. Once their two youngest children were in school Veda worked as a sales clerk for a women's apparel store, earned her NH Real Estate Sales and Brokers licenses and then worked for Damon Real Estate in Nashua, NH. With the rapid expansion of her husband's business in the 1980's, Delta Education of Nashua, Veda went to work in the family business where she preformed several jobs including accounting and personnel management.
Veda enjoyed gardening, swimming, travel, reading mystery novels, fall foliage tours, time with grandchildren, and anything chocolate.
In 1999, Veda and Tom celebrated their 50th wedding anniversary with a large family gathering and an around-the-world trip on the super-sonic Concorde airliner. After 39 years in their Westbrook Drive home, site of numerous July 4th gatherings with extended family, age was catching up and Veda and Tom moved to an apartment in the new Huntington Retirement Community in Nashua.
Veda and Tom will always be remembered for their business and family leadership and quiet generosity to family and community. Veda and Tom have been strong supporters of the Society for the Protection of New Hampshire Forests, the Nashua Soup Kitchen & Shelter, Rivier University, Girls Inc and numerous other charitable organizations. They have generously assisted with school and college tuition for all their grandchildren and their spouses. Veda and Tom were 50-year members of the Nashua Country Club. For many years Veda and Tom wintered at their condominium on Seven Mile Beach in Georgetown, Grand Cayman, Cayman Islands.
Veda is survived by their children Thomas F. Richardson 3rd, and his wife Elizabeth (George) Richardson of Durham, NH, Harvey Frederick Richardson and his wife Pamela (Rowell) Richardson of Hollis, NH, Ann Veda Richardson of Lake Placid, NY and Gilbert Wattis Richardson and his wife Laura (Smith) Richardson of Benton, NH. Veda was predeceased nine months ago by her husband Tom and in 2006 by another son, Hamilton Harlow Richardson of Nashua, NH. Veda is also survived by four grandchildren, Ellen Minot (Richardson) Frentzen, her husband Derek Frentzen and Veda's great-grand daughter Abigail Harlow Frentzen of Melrose, MA; Matthew Thomas (Richardson) and his spouse Jake Bruneau-Richardson of Boston, MA, Martha Lane Richardson of Durham, NH; and Heather Ann Richardson of Hollis, NH.
Memorial Donations may be made to the Nashua Soup Kitchen & Shelter, Girls, Inc of Nashua or the charity of one's choice.
Calling hours will be held at the Farwell Funeral Home, 18 Lock Street, Nashua on Thursday June 8th from 7 to 9 PM and Friday, June 9th from 5 to 7 PM. A gathering of family and friends will be held after the Friday calling hours at Martha's Exchange, 185 Main Street, Nashua.